Slow Food Saddleback members and friends enjoyed an excellent meal at Silica restaurant in Kiama following the AGM on Wednesday 16 October.
Having been greeted with drinks and canapes on arrival, Slow Fooders were treated to shared seafood entrees and shared platter mains featuring local seasonal produce.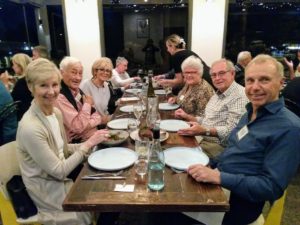 Cheeses from The Pines, Pecora Dairy and Buena Vista Farm were a fitting finale to this special Slow Food dinner. All three cheese producers are regulars at the Kiama Wednesday markets and are creating some fine cheeses – check them out.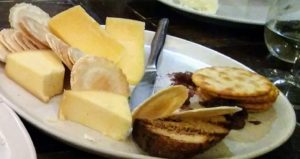 Cressida McNamara from Pecora Dairy was the guest speaker and had an interesting story to tell about what has been achieved at the Dairy and future plans.
THE SILICA MENU
Canapes
Scallop Ceviche with cucumber, chicken jus and almond
Duck Breast with eggplant pickle and fennel
Entrees
Kingfish Sashimi with celery, ginger oil, soy and rice crisp
Braised Octopus with broad beans, pickled onions and fresh herbs
Mains

Spiced Lamb Shoulder with sri racha yoghurt
Braised Whole Chickens with ginger and shallot sauce
Roast Pumpkin with garlic yoghurt, pepitas and herbs
Roast Cauliflower with parmesan cream, pangrattato and parsley
Pickled Kohlrabi Thai Salad with peanuts, basil and nuoc cham
Garden Greens with eshallot, mustard, lemon and almonds
Kohlrabi Remoulade
Thanks to Silica management and staff and our local cheesemakers for supporting Slow Food and making the evening such as success.