Judith and David Ball again treated Slow Fooders to a great day on the verandah of their Berry home when they hosted an egg and chicken luncheon on Sunday 22 September 2019. And in line with their philosophy, it combined fantastic food, excellent wines, sharing of knowledge and a touch of fun.
On a perfect spring day guests were greeted in the garden area with champagne (or soft drink options) and a trio of egg crostini prepared by Carolyn. Then it was upstairs to watch an inspiring youtube video put together by Kangaroo Valley Pastured Eggs – (https://www.youtube.com/watch?v=s1cyX6pLBYA). Such a big difference between our local free range egg suppliers and the big commercial ones.
The route upstairs as well as the lounge area was delightfully decorated with a wonderful collection of ceramic eggs, egg cups, cook books opened at egg recipe pages and all things eggy.
Back down in the backyard for an egg hunt and a chance for a look at the produce currently being grown in David's veggie garden. Everyone was tasked to find three different coloured plastic eggs then it was back to the studio where David (complete with props) gave an entertaining talk on the chemistry of eggs. Judith followed by revealing an amazing flow chart showing how eggs are used and making sense of the huge variety of things we do with and to eggs.
The plastic eggs were then cracked open to reveal an egg joke and a lucky number. The winners could chose a dozen KV eggs or a basket of David's veggies. But the egg jokes – three eggs each, thirty people…..that's ninety egg jokes which were all either quite funny or worthy of a loud groan. Well done Judith!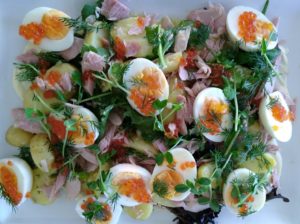 Then on to lunch. First course was a smoked yellow fin tuna, salmon roe (both from the Berry Markets) and egg dish with a sour cream dressing (see our recipe section).
The main course featured chicken browned on the BBQ by Des having been previously been cooked sous vide by Liz who did a sterling job with the preparation despite being unable to stay for lunch. Accompaniments were whole roasted cauliflower, glazed carrots cooked in the pizza oven and salad greens from the garden.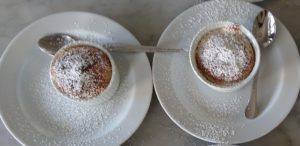 Judith then served up 30 fabulous lemon souffles – something not too many would attempt!
A thoroughly enjoyable event which reflected the many hours of thought and preparation that Judith and David put into all the events they host. And a big thank you to the family members who helped make the day such a success. See the Gallery for more pictures.