A sell-out crowd of 114 Slow Food members and friends celebrated Terra Madre Day 2019 in the Kiama Pavilion on Sunday 8 December.
Slow Food Saddleback were hosts this year for this special day of international recognition of Mother Earth and put on a fabulous feast showcasing the area's finest food and wine.
Guests were greeted with a sparkling white from Simall Wines and appetisers prepared by Slow Food Saddleback members using Buena Vista's chicken paté, smoked fish and local cheese including sheep curd from Pecora Dairy.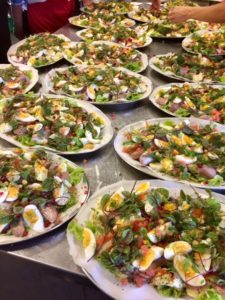 The entrée featured a yellow fin tuna caught by local fisherman Nick Dunster off the Kiama coast, eggs from Kareelah farm, Strong Organics potatoes, salad greens from Buena Vista Farm and David Ball's veggie patch, blood limes from Tom and Helen Supple at Jamberoo and various 'secret' herbs.
Sourdough from the Blue Swimmer at Gerroa was served with home-made butter infused with seaweed from Phycohealth.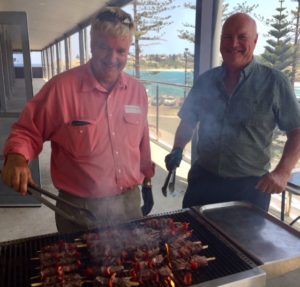 Schottlanders Wagyu beef rump was chosen for the main course and cooked kebab style over charcoal by our resident barbecuers extraordinaire, Des and Murray. The roasted carrot accompaniment was a feature with Camilleri Berries supplying the carrots and our volunteer professional chefs, Luke Basic from Silica Restaurant and Bar in Kiama and Karina Shepherd from Dandelion and Mallow wholefood kitchen in Gerringong adding their magic touches.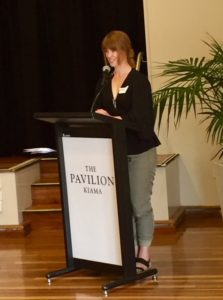 A cheese tower was prepared by artisan cheesemaker and Slow Food Saddleback member Jan Watson and cheese platters were served in time to be enjoyed while the guest speaker, Mahler Grey from The Pines Kiama, talked engagingly about her recent attendance at Slow Food Cheese 2019 in Bra, Italy. It was inspiring to hear a young sixth generation farmer talk positively and enthusiastically about changes being implemented to try and ensure the farm survives the current climate challenges.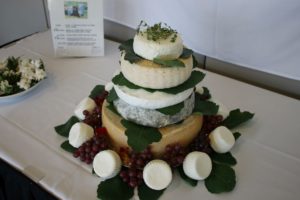 Jan's cheese selection comprised cheddar from The Pines as well as Buena Vista Chevre, Unicorn Brie and a stunning Chicco Blue artisan cheese from the Valley Cheesemakers.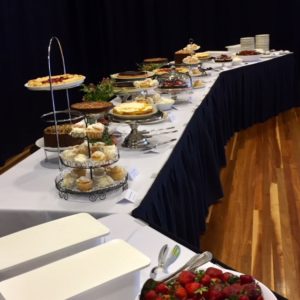 Following Mahler's well-received speech, the dessert, a tribute to Margaret Fulton, was unveiled with the stage curtains drawn to reveal a selection of cakes made by Slow Food members. A definite Wow moment, with several guests jumping up to take photos. Fresh strawberries from Berrylicious and the always-popular Pines gelato complemented the sweet treats.
Local beverages were served throughout the afternoon including cider from Darkes, beer from Stoic Brewing, Semillon and Tannat from Coolangatta Estate, Chambourcin from Cambewarra Estate Winery and coffee from Daily Grind.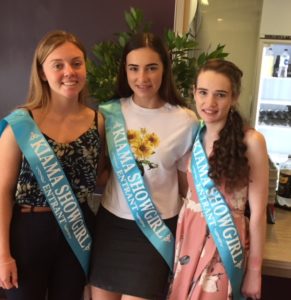 Slow Food Saddleback members contributed by growing produce, making cakes, butter and appertisers, constructing the entrée and mains and serving the food and drinks. Thanks to all our suppliers who helped to showcase our area, to the three Kiama Showgirl entrants who helped with serving the meal and to Karina Shepherd from Dandelion and Mallow catering for her help in the kitchen and coming up with a great vegan appetiser. Special thanks to Luke Basic from Silica Restaurant and Bar for volunteering his time and expertise both in the lead up to and during the event.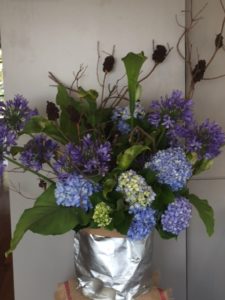 And an extra special thank you to the tireless Tricia for all her behind the scenes work on the day and for taking on the task of decorating the venue.
Check out our Gallery page for more photos – thanks to Cathy Law from The Bugle for sharing her photographs of the event.