Kiama turned on its best for the Slow Food start-of-the-year picnic in Bonaira Native Garden on Sunday.
The garden looked a picture thanks to Council doing a full mow of the grassed areas on Friday. Picnic tables were set up under one of the large trees and a gentle breeze was welcome on this clear sunny day. Apart from a couple of locals wandering down to Kendall's beach we had the reserve to ourselves and were able to enjoy the peace and quiet of this little known green space in the heart of Kiama.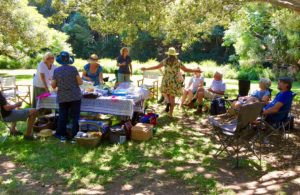 As always, everyone had made an effort to contribute something a bit special to the three course bring-and-share picnic but Libby's gluten-free tart, created almost entirely from home grown eggs and vegetables, won the unofficial Best Slow Food Dish award. You'll find a couple of recipes from the day in our recipe section.
Those who hadn't previously discovered Bonaira were quite delighted with the venue and were keen to take a walk through the garden before heading home.
Great location, great food and great company. All in all a really good day.