Two of Slow Food Saddleback's Snail of Approval local businesses will come together to present our May event.
Silica Restaurant's Luke Basic will create a special dinner featuring produce from Buena Vista Farm, the home and working farm of Fiona and Adam Walmsley and their 3 children.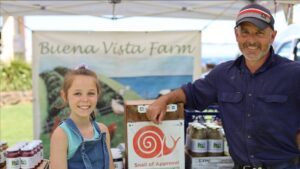 A three course meal with a welcome drink awaits you, with most of the ingredients coming from Buena Vista Farm, plus a few additions from Luke's patch at the Dapto Community Garden. You will need to purchase your own drinks after your welcome bubbles.
Fiona and Adam returned to Buena Vista Farm in 2012 after a busy time living in Sydney. They quickly assembled a variety of animals and started cooking classes. On their 18 acres they now raise dairy goats to make cheese, have medicinal and cut flower gardens, meat chickens and laying hens, beef cattle and bees. Fiona and Adam will be our special guests for the evening and will tell us their story and future plans.
Date: Wednesday 2 June at 6.30 for 7pm.
Cost: Members $68; non members $78.
Bookings: Try Booking: https://www.trybooking.com/BRAKZ
Best to book early as places are limited.
If you have special dietary requirements, or any queries, please contact Celia – at jamberoo@icloud.com