Earlier this month 36 members and friends were treated to a fabulous lunch created by Kirsten McHugh of the Gerringong Schoolhouse using Dr Pia Winberg's Phyco Food Co. Seaweed products produced in the Shoalhaven. Pia uses a bi-product from the Manildra plant to grow the seaweed and explained how pre-biotic fibre and Omega 3 is very beneficial to our gut health and how gut health is instrumental  in our general health. Pia gave a very informative talk on her recent Bio Belly research and these results are in the process of being written up for publication in scientific journals.  She also talked about the research she has undertaken with the Nowra Prison inmates and the Omega 3 deficiencies she found in this study.  She has now branched out into a commercial venture marketing Phyco  Food Co.* products online www.phycofood.co. The seaweed pasta was nominated at the National Food Awards in Melbourne recently.
Kirsten's imaginative house made menu included Phukka* dusted grissini and crackers with Phycotein*spiced Schoolhouse Haloumi for starters, then the most delicious entree of eggplant and wakami wontons in a spiced wakami broth.  The main course consisted of a tasty nori and nettle gnocchi and served with a nori-enriched beef ragu (beef from Helen and Bernard's Eagleview Farm at Foxground) and a crisp salad of cabbage, fennel, lemon and Australian Ulva.  Dessert was Schoolhouse Yoghurt Pannacotta with Davidson plum syrup and delicate seaweed dusted meringue. It was a very busy day for Kirsten, however she managed to introduce us to each dish.  Kirsten's cheeses and yoghurt products are available through Greenbox each week at www.greenbox.org.au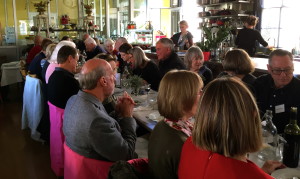 It was wonderful to share this event with the orignial founders of Slow Food Saddleback, Kirsten McHugh and Jack Timbs. Oh! and I almost forgot, (kidding) Jack gave a  well researched and very entertaining introduction to Pia on the day.
Thank you Pia, Kirsten and Jack, we hope we can share another event in the near future.