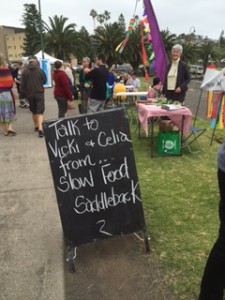 Celia and Vicki had a stand at the Kiama Farmers Market on Wednesday.  It was very successful and lots of people questioned what Slow Food Saddleback is about?  We enticed locals with a small sample of a Warrigal Greens (NZ Spinach or Cook's Cabbage)
Bush Tucker  Pesto.  Here is Vicki's recipe!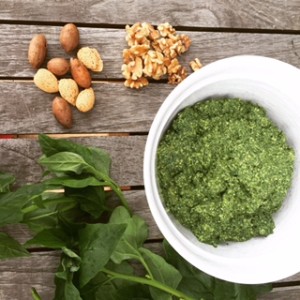 Take 1 prepared cupful of Warrigal Greens (prewashed, dipped in boiling water for 1 minute and quickly cooled in a bowl of iced water then drained/squeezed well) It's very important to cook it first!
1 generous cup of any garden herbs (washed and drained) I used garlic chives, coriander, parsley and rocket.  Basil would be nice too.
Place greens in a food processor with 1 or 2 cloves of garlic (I like to precook in boiling water for a few minutes to take away the bitterness) and process with
1/4 to 1/2 cup olive oil, 1 cup of walnuts (any nuts ok), a pinch of salt and or sugar to your taste and juice of lemon.  Capers are a very nice addition too. Parmesan is another alternative.
I serve it on pasta, toast, potatoes or a cracker. Delicious!