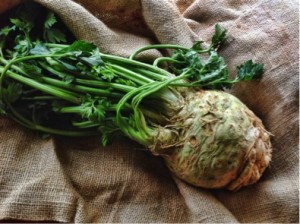 Celeriac is related to the celery and parsley family though it is much bigger. It looks like a root but it is a corm or enlarged stem with brown warty skin, white flesh and a pungent flavour. It has long been used in French and Middle Eastern cuisines but is not widely widely used here.
Cut celeriac goes brown quickly so add pieces to acidulated water as they are prepared. Thickly peel off all the warty skin and cut into suitable sized pieces and place in the water.
Thick slices can be baked, roasted or made into chips.
A delicious salad can be prepared by cutting into thin julienne slices, then tossing with a dressing and some creme fraiche and parsely. Similarly it can be shredded into mayonnaise and parsley added to give a delicious dip.
Celeriac makes a delicious puree to serve with pork or chicken. Cut into slices and cook in butter until soft. Add cream and simmer gently till cooked, Puree the mix. You may like to add some truffle oil or shave truffle to serve.
Carolyn Evans