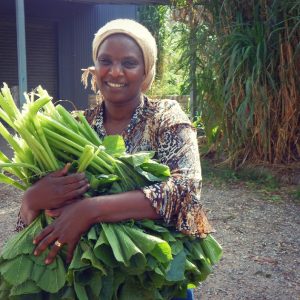 Green Connect Farm has been operating for five years, transforming an urban forgotten wasteland into a luscious, thriving permaculture farm.
Come see what happens when you take 12 acres of scrub, a team of passionate, hardworking staff and volunteers, plus permaculture and organic farming principles. As many as 55 varieties of fruit, vegetables and herbs are grown here!
On the tour you will be shown the Green Connect market gardens and food forest and how they work, meet the chickens and the free-range pigs. You'll hear about the waste-reuse services and more about the other operations that complete this inspirational social enterprise.
DETAILS…
Green Connect Farm Visit
• When: 10am Wednesday 22 May
o Tour will take about 1 hour, then we'll enjoy morning tea together onsite
• Where: 6 Anna St, Warrawong (behind Warrawong High School)
• Cost: $15 per person (includes tour and morning tea)
What to bring:
• Wear enclosed shoes that are comfortable for walking on uneven ground
• Sun hat and sunscreen
• Water
Morning Tea will be provided by Slow Food Saddleback, however please bring a cup.
Sorry, no pets permitted
BOOKINGS…
Numbers are limited and bookings are essential.
You can book here: https://www.trybooking.com/BCKQQ
For further information email slowfoodsaddleback2@gmail.com
or call Barbara Khalifa on PH: 0419 498 072